Browse vacancies and learn more about Yeply.
The short version is that Yeply is a bike shop on wheels, but in reality, it is much more than that.
Our motto is that we keep you riding, and so, we're constantly looking for new ways to get involved in sustainable mobility projects, building urban ecosystems one healthy bike at a time. We consider ourselves a friendly and helpful neighbour, the kind that will conveniently lend you a hand when you most need it.
On the ground, we offer a revolutionary, same-day bike maintenance service that takes away the pain and hassle of taking your bike to a shop and then waiting for who-knows-how-long to get it back. We service neighbourhoods in convenient shifts, so that you can simply drop off your bike with us, and pick it up a few hours later. On top of this, our own MyYeply app keeps your service records safe, and notifies you when your next service is due. 
To our business partners, we offer bike maintenance days for the office. Simply book us for a day, and we'll fix your entire team's bikes, and maybe even teach them a thing or two about tires and pumps. No worries.
We also support companies of all sizes on their bike fleet maintenance, whether traditional or electronic. From food delivery services to large corporations with contract bikes, we can tailor our services to suit any maintenance needs. Our tech platform makes sure you always have up-to-date insights into your bike fleet, and that the uptime on your entire fleet stays positive of 90%.
We currently offer multi-city coverage in Finland as well as nationwide coverage in Germany, Austria, and The Netherlands, but we've no intention of stopping there – we already have the largest maintenance network in Europe, so the next logical step is to be the #1 player in the world.
Wanna join the ride?
Here you can find all of our current vacancies by country, as well as all our global roles.
This list gets updated regularly so watch this space for exciting new roles to come!
You can also follow us on LinkedIn, where we post company updates, new vacancies, and news.
We are hiring a Head of Business Development who will be responsible for Yeply's global B2B portfolio.
Location: Hamburg or Berlin, Germany or Helsinki, Finland
Job Description:
As Yeply keeps growing globally – we are now looking for a energetic Head of Business Development to ensure our growth! New Head of Business Development will be responsible for Yeply's global B2B portfolio, leading strategic relationships with existing and prospective corporate customers.
Key Responsibilities:
You will lead the global Yeply Fleet and Corporate customer programme, together with the company's founders
Managing and building Yeply's B2B Product portfolio, including P&L responsibility
Leading the prospecting and targeting of potential corporate customers, in collaboration with the marketing team
New business generation by meeting potential clients to understand needs and providing relevant solutions
Building and leading a high-performing Key Account team globally, to grow the B2B portfolio
Building strong relationships with the existing portfolio of clients
Ensuring a robust after sales process to deliver strong customer engagement
Collaborating with the Marketing team in ensuring a successful B2B Marketing strategy is executed according to strategy
What you bring to the table:
In order to be successful in this role we think that you may need:
You have a degree in Marketing, Sales, Business Administration or related field

English proficiency is a must and Finnish, German or Dutch a bonus

You have prior experience in a similar role, preferably in a high growth startup in a hands on role

You are a strong leader who has built, scaled and led high performing sales teams.

You have a strong experience within consultative sales and possess the ability to prospect and manage senior level relationships

You are highly goal oriented and possess excellent communication & interpersonal skills.

You are adept at building relationships and liaising with multiple stakeholders

You have excellent written & verbal communication skills and are comfortable dealing directly with the company's founders
Are you an experienced HR Professional ready to take Yeply's People Operations to the next level? If yes, we're looking for you!
Location: Hamburg or Berlin, Germany, or Helsinki, Finland
Job Description:
We are looking for a Head of People to lead our all our people operations, supporting and ensuring our growth while providing a top-notch employee experience to all employees every day. You will lead our People Operations as a part of the management team and you'll be the key owner of our people processes, policies, and programs. You will work closely with our CEO and report directly to him. This is pretty unique opportunity to make an impact on Yeply's future story!
Key Responsibilities:
Run and perfect People Operations for Yeply 
Create a people-focused strategy that supports our growth plan while we are growing in our current locations and expanding to new countries
Build out the People Operations road map and implement annual plans based on company strategy
Ensure People Strategy implementation into daily operations by building and leading people processes to the next level, including e.g., performance management, compensation, competence development, daily wellbeing.
Building a People Structure that ensures the success of our people and business
Actively build and update our recruitment strategy and execution plan based on company growth goals
Support our managers and teams
Own the talent strategy and talent retention topics
Help and support our local People Operations teams globally
Contribute to administrative support tasks and legal issues (in Finland) in the HR field
What you bring to the table:
In order to be successful in this role we think that you may need:
A suitable bachelor's of master's degree from the field of HR, business, or management
6+ years experience in People/HR, preferably in a managerial role
A business-orientated but deeply empathetic way of working
Experience within the scale-up or start-up scene is a plus, particularly in a global environment
A strong understanding of people processes from entry to exit
An understanding of the digitisation of various HR functions
Fluent in English, especially as a 
German, Finnish, and Dutch and other European languages are a plus
An understanding of and experience in DEI
The ability to think strategically whilst working hands-on with operative HR issues
Are you ambitious and passionate, and want to help build a world-class software team in a fast-paced start-up? 
Location: Helsinki, Finland
Job Description:
Yeply is growing at a fast pace. We have already serviced 70k+ bikes and are now setting up an in-house tech team in order to keep up with the speed of our growth. Technology will play a key role in the next phase of Yeply's growth and future. At the core of the technology is building empowered product teams to solve problems that will allow us to serve our customers better.
Key Responsibilities:
Taking part in the practicalities of software development in-house

Participating in building the team further

Building routines and processes for the team

Being part of decisions in the technical architecture, and technologies used
What you bring to the table:
Have solid experience in software development and understanding of building web applications
Are passionate about solving real-world problems with technology
Have Python, Django, Vue expertise and knowledge of relevant technologies
Have a solid track record of delivering software solutions
MEET OUR MECHANICS & TEAM LEADERS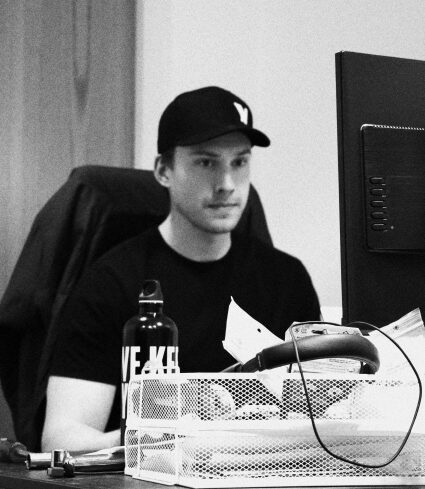 VICTOR LANGENSKIÖLD
Head of Operations, Finland
Hi there! What is your name, and where do you live?
Hi!
Victor
, I live in Lauttasaari, Helsinki, Finland.
Tell us a little bit about yourself and your background.
When I was younger I was absolutely clueless about what I wanted to do when I grew up (and still partly am, haha). Eventually, I found my passion within hospitality and worked for years within tourism, hotels and restaurants. Due to Covid, I had to reconsider my career options and by the luck of the draw I heard about Yeply from one of my friends. At the time, it was a totally absurd idea to apply as a bike mechanic with almost no previous experience. However, I wanted to explore new possibilities and not limit myself, so I went for it and couldn't be happier! During my free time, I enjoy being outdoors fishing, hiking and skiing. I'm also a fitness/endurance sports enthusiast, always looking for new ways to push my limits. 
When did you join Yeply, and what do you do? 
I joined Yeply in February 2021 as a bike mechanic and currently I run our Finnish operations.